Update: Congrats to #40 Domestic Diva! And here's a special treat from Stella: Use coupon code GIVEAWAYSALE for 20% off until Friday March 8th!

What do you do when you're a professional, classical harpist who speaks four languages, loves to draw and bake and lives in Italy? You open a jewelry shop, of course! The multi-talented Stella of My Little Blue Dot has creative energies to burn and turned to beads to tell more stories.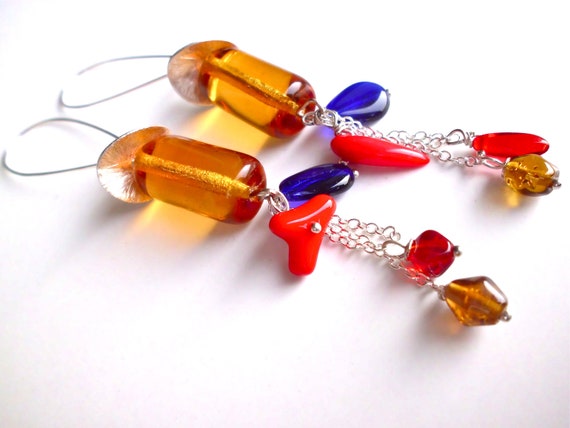 Her colorful designs exude whimsy while demonstrating her light touch and eye for editing. This is one of her mother-daughter sets, combining juicy raspberry glass beads with green leaves and copper wire on a leather strap.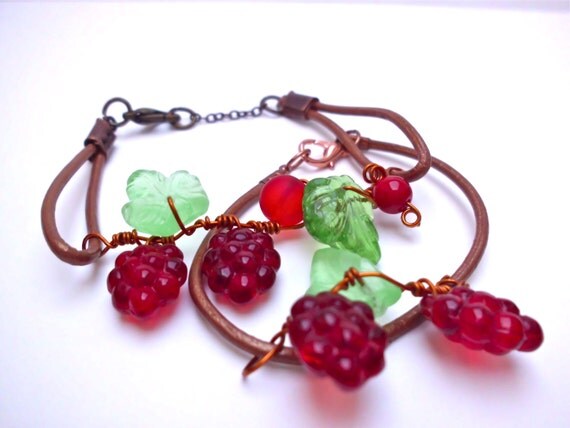 Many of her pieces, like this necklace, bring together diverse materials to create a tiny tableaux. Stella has a love of ducks and included one happily swimming in a sea of ocean blue Czech glass crystals. Perfect for summer…or for those dreaming of the beach!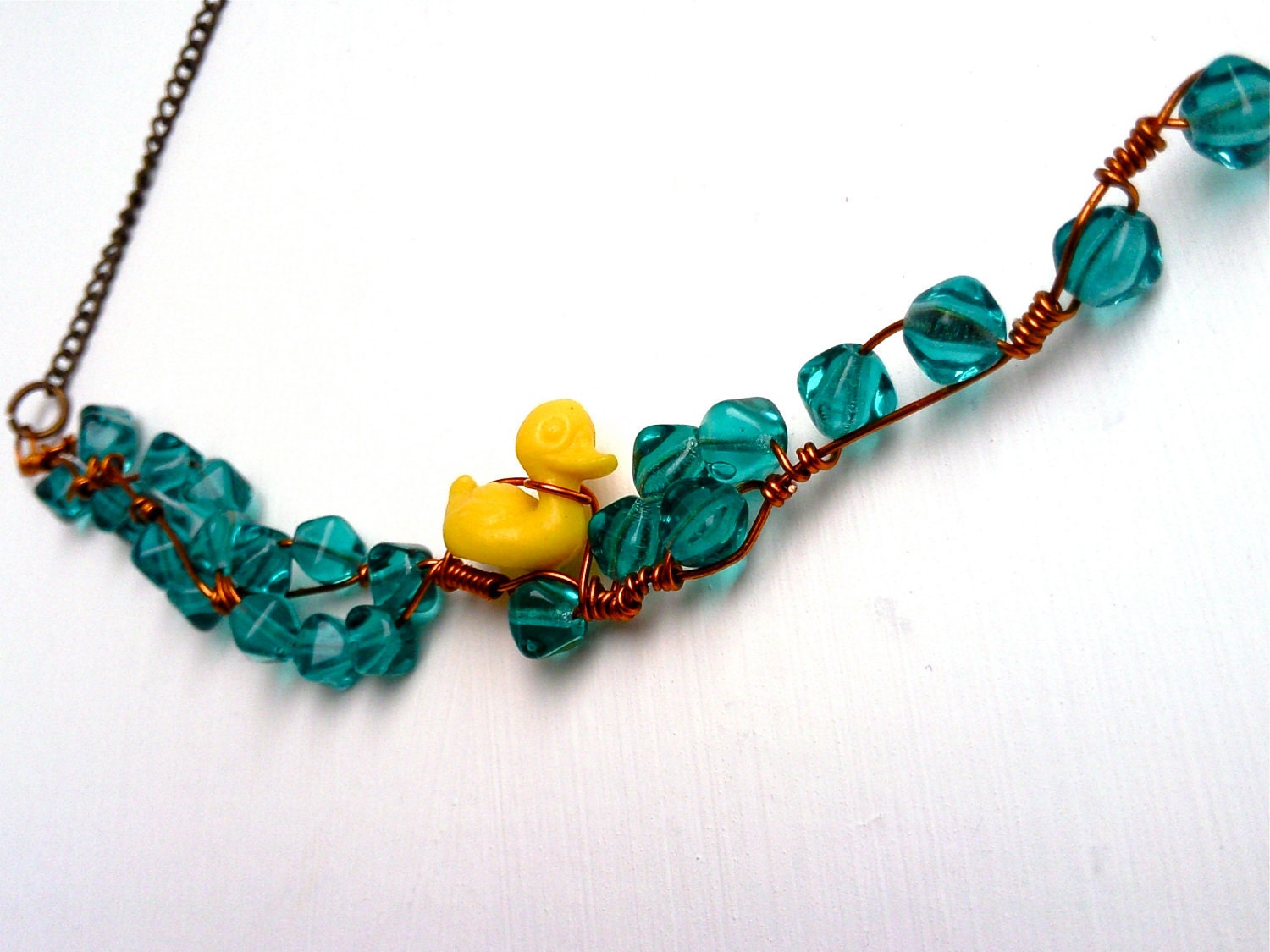 These three bracelets come as a set so you can mix and match to add color and texture to your heart's desire. The use of vintage copper wire and elements gives them an old fashioned feel that grounds the bright colors of the beads.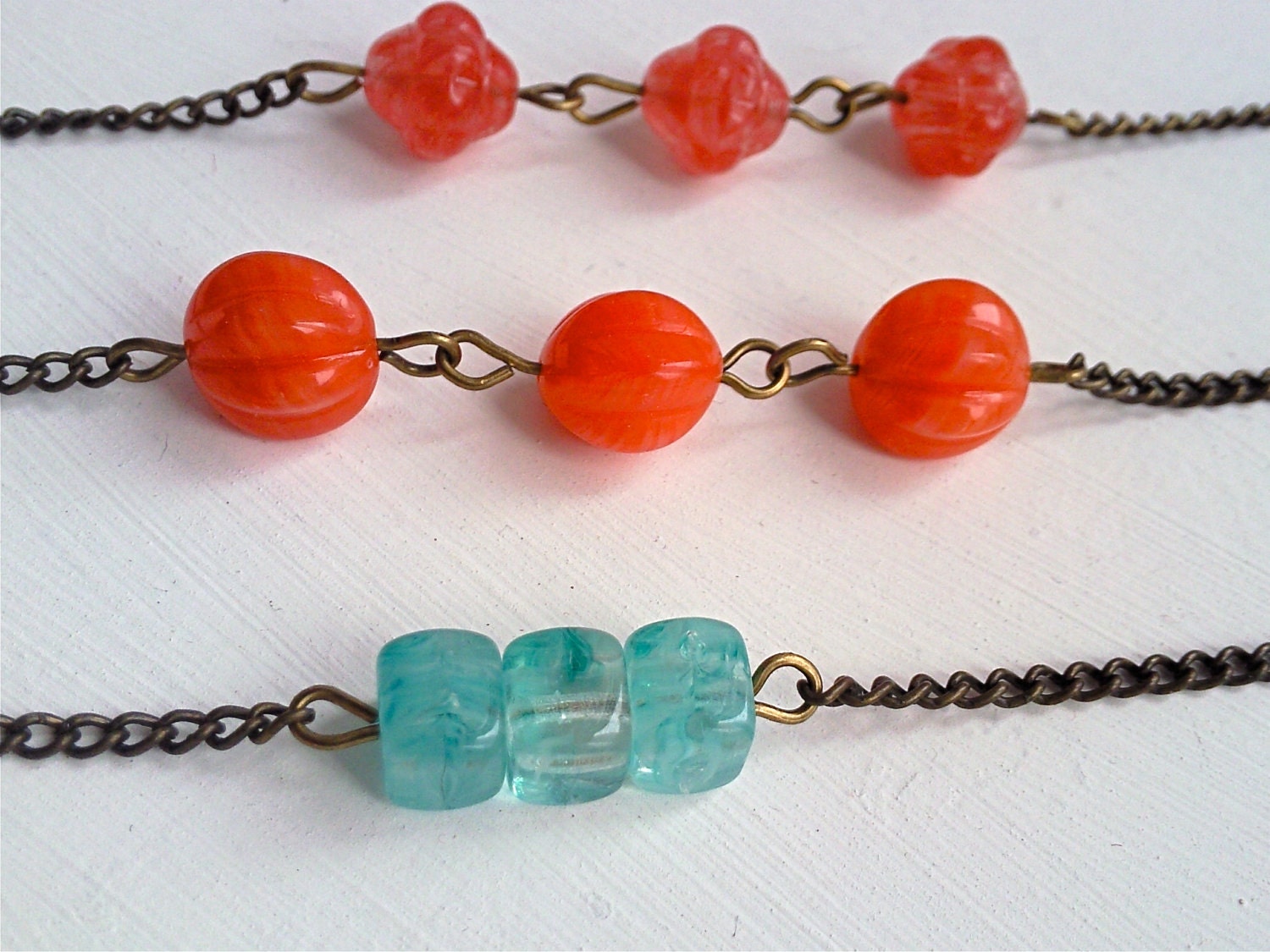 Read on for a peek inside Stella's ever-so-creative mind!
Curator V: With so many creative abilities: professional musician, baking, drawing, writing…what made you decide to add jewelry making into the mix?
Making music is an inner urge if you feel like melting when listening to a Debussy piece, a Puccini aria or a Bach partita. Then there's nothing you can do but going along with it.
Baking 'crostata' pies is an inner urge if you have too many jars of marmalade made in a tiny torrid kitchen on a summer afternoon. Jam on fresh-baked "crostata" is a match made in heaven.
Drawing and writing comics is an inner urge if you tend to see people as cartoons, with duck faces instead of human ones (could also be called the "Donald Duck Deformation").
Jewelry making and any kind of craft work is an inner urge if you've grown up as the daughter of a sculptor and a painter, which means to be involved with any kind of tools and materials from early childhood days. My first pieces of jewelry date back to 1998 when I started to be a regular client of the first bead shop in town. Being too shy to ask for help I observed other clients and learned from them. In combination with the skills I had learned at home I achieved some pretty good results (considering I was just 13). My mum and a couple of my friends still wear those almost vintage necklaces!
Curator V: You live in Turin, Italy. Can you tell us a little bit about that and how it inspires you?
Never ask a passionate indigenous Turinese to tell you about his/her beloved hometown, unless you have a couple of free days to listen to their story. Turin is an amazing place to live. It is "Little Paris" as well as the first capital of the unified Italy. It also hosts dozens of film festivals, sport and music events. Above all, it boasts with Europe's biggest open air market, Porta Palazzo. With its variety of colours, products and people it's s a daily source of inspiration for any visitor.
I also spent a lot of time abroad: two years studying (music) in Zurich, Switzerland and three years in Munich, Germany. For another two years I found myself travelling to London on a regular basis, where my boyfriend used to live then. My freelance job brings me pretty much anywhere from Italy, Austria to southern France…No wonder there are constantly new ideas to be incorporated in my jewelry!
Curator V: You say your shop was conceived on a train last spring. Can you tell us more about that?
I was at that time working in Teatro alla Scala, Milan, and I was still in my I-will-not-sleep-in-Milan-after-the-rehearsal-period. I know it's crazy, as Milan is a wonderful city with tons of interesting places to be and things to do. But I was firm in my decision and had to spend 4 hours on a train almost every day. The "Treno regionale Torino-Milano-Torino" became my second home. After a thorough investigation I learned that the very last coach was the most comfortable one. Plus, there were sockets to charge my cell phone and laptop… However, my shop was not only exclusively conceived on that very train: the idea came up mostly while waiting to play in Verdi's "Aida": As stage-music harpist I had two entire acts of idleness, which I spent hanging around and being inspired by the unique historical settings and costumes of this world-class opera house.
Curator V: In your lovely About page you say about My Little Blue Dot: "It's a fun and poetic way to tell a story…with beads. " What is it about working with beads that appeals to you?
Although l absolutely love the idea of 'wearing' a story, the reason I started making jewelry were the beads in itself. I remember being totally fascinated by a little jar containing colourful sead beads in my aunt's home. Soon my mother gave me a bunch of beautiful second-hand glass beads, which had been used by my father when he made fancy jewelry for her back in the 70s. The addiction had started.
Wherever I go today, I look out for beads shops like a bloodhound. One of my favourite feelings is to put my hand into a big box containing thousands of mixed big glass beads and to carefully sift out each one of them…must be similar to what gold-diggers feel in their luckiest moments …
Curator V: How would you describe the woman you design for?
Self-Ironic and self-confident, allowing herself to have fun with colourful jewelry and using it as a complement of her personality. Let the jewelry tell something about you! We don't need to have gemstones and gold to shine. But then again, if my boyfriend was about to buy me a Dior necklace for my birthday, he'd be more than welcome…:-)
Curator V: What can we expect from My Little Blue Dot in the future?
My Little Blue Dot will be going on experimenting with new materials and cooperating with her dad to increment the terracotta supplies section. I will visit new towns, getting new beads and having fun with it! A never ending work in progress, I guess…but it is definitely worth it!
Giveaway time! Stella is offering up her Czech crystal and copper Blue Ice Cubes Necklace! To enter, visit My Little Blue Dot and wander among the creations. Then come back here and leave a comment with your favorite item. One winner to be chosen at random next Sunday, March 3rd.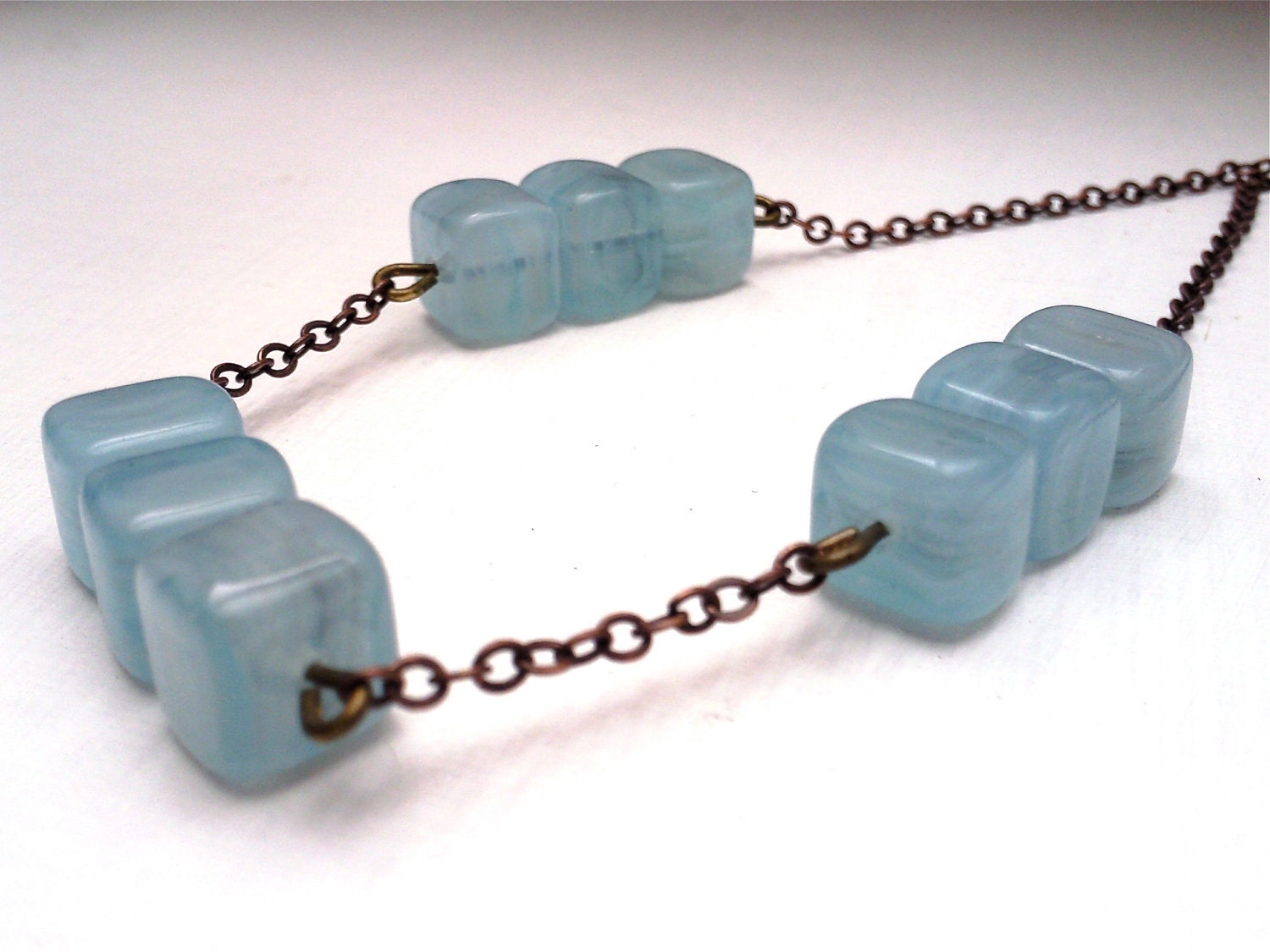 (Reading this via a feed? Here's a direct link to the giveaway.)