Update: Congrats to Hana, #58! Thanks to the team of Bookish Charm for this giveaway!
Erin and Ducky, a husband and wife team, turned their passion for reading into Bookish Charm. Here you'll find an entire line of jewelry, cards, prints, and more that let you proudly identify yourself as a book lover.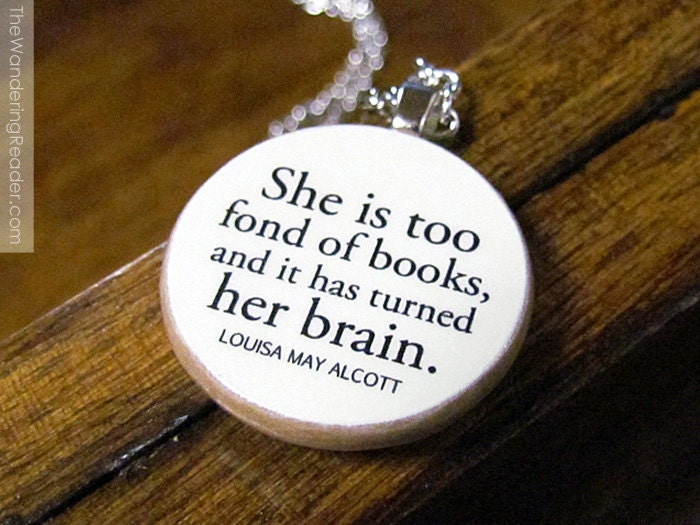 While I first discovered them during a Doctor Who exhibit, my daughter Poppy was thrilled to explore their selection of Harry Potter themed items. This bookmark, with the words of the Marauder's Map, serves as a charming bridge between the magical and muggle worlds.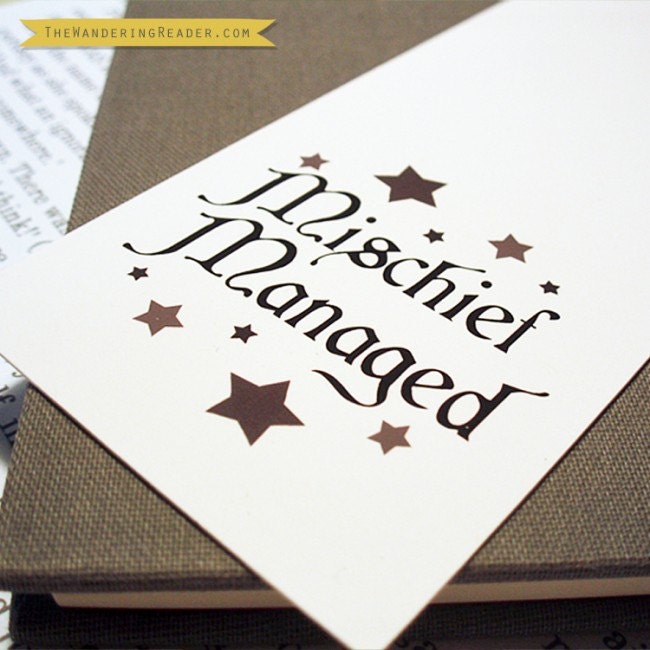 Erin and Ducky strive to inspire while celebrating knowledge. To that end, the quotes they feature cut right to the core of the matter. I find this one from Nietzsche to be simultaneously motivating and comforting.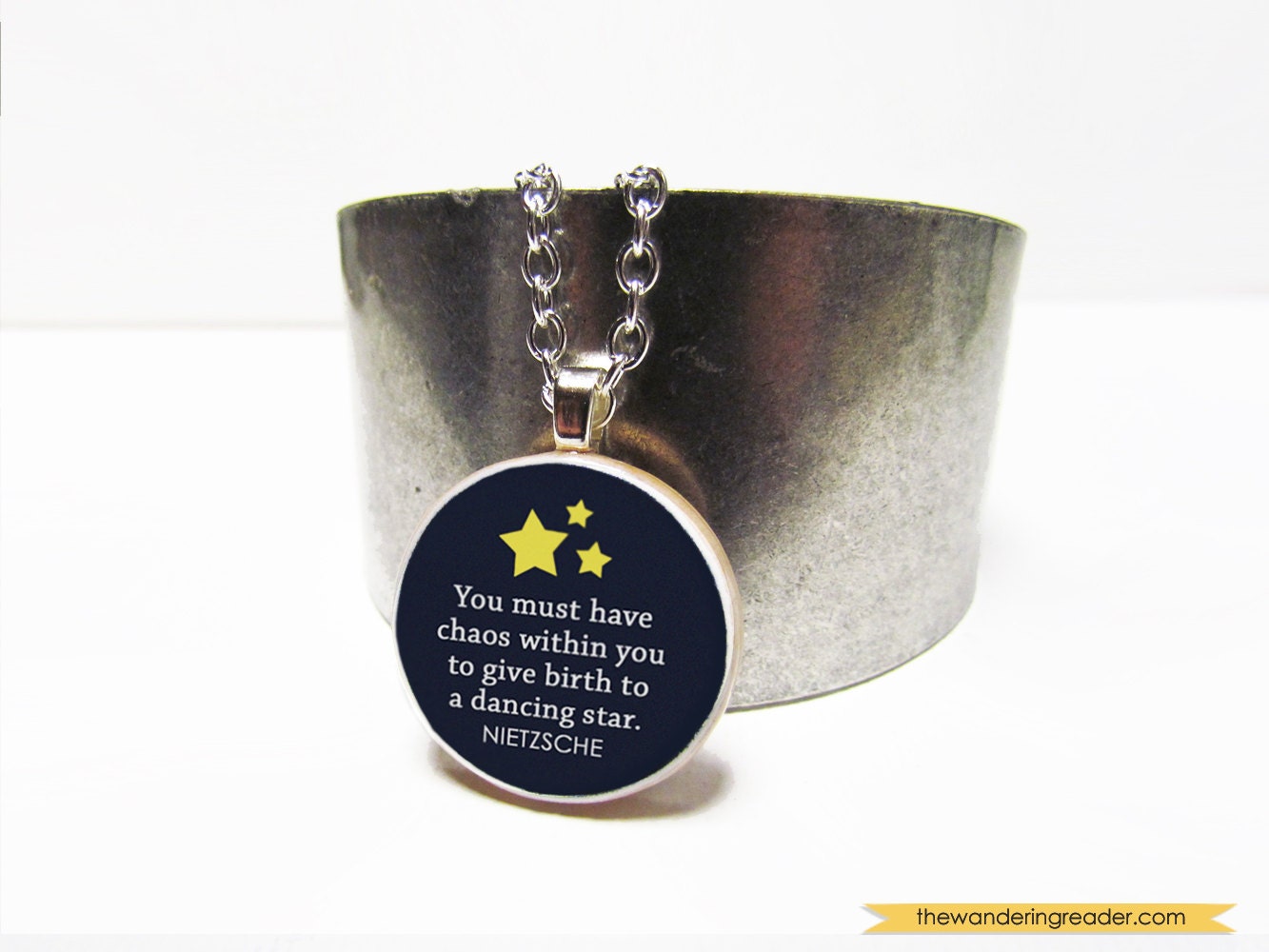 This print, celebrating the important things in life, would be perfectly at home in my house! Printed with archival inks onto arctic polar luster paper, you can be sure it will brighten your reading corner or classroom for years to come.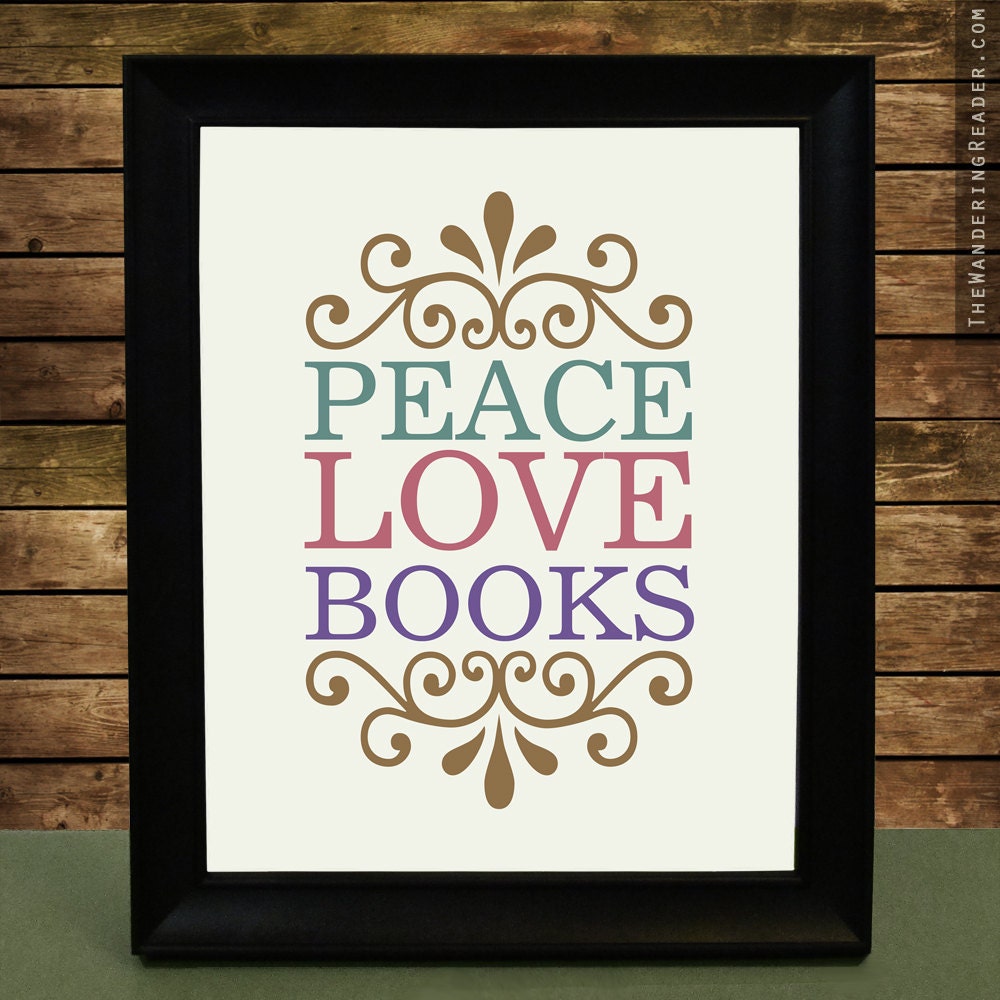 Curator V: You call Bookish Charm "The Etsy shop for the Wandering Reader". What does that mean to you? Why did you decide to make that your focus?
We've always had a passion for books and all things literary and curious. Years ago, when we first started selling jewelry and paper goods on Etsy, we felt "Bookish Charm" was a name that fit us just right. When we later grew into "The Wandering Reader," we wanted to keep the name because it reminds us of our roots, and keeps us humble.

Now, "Bookish Charm" has become the face of The Wandering Reader on Etsy, and we're happy to have sent out our creations to people from Ohio to the Netherlands!

So long as we're able to, we'll keep developing and sending out gifts and goods for the incurably curious.
Curator V: Bookish Charm is a husband/wife collaboration. Who does what? What are the benefits of working with your spouse? Drawbacks?
Working alongside my wife has been such a treasure for me. We're a great team and play off each others strengths while at the same time supporting each others weaknesses.

Erin is the creative mastermind of the duo, she's the one that comes up with and designs all of the wonderful creations that are featured in our shop, and I can say that we'd be completely lost without her and her wonderful and vivid imagination and creativity.

I'm more the procedural and analytical side of things here. I take care of the packaging, shipping, customer support and 'business' part of what we do. Erin makes it, and I get it out there – I honestly can't think of a better teammate to have at my side.
Curator V: In your Shop Announcement, you say you've combined your shops into one. What led you to that decision?
Well, for a time Bookish Charm was just our jewelry shop on Etsy, while we had another, separate shop under a different name that sold all of our prints, bookmarks, cards, and bMarks (Mini-Bookmarks). It worked well for a while, but we found we could respond to customers a lot faster, and appear more unified if we did it all under one name.

It's a good thing Etsy is more of a search-based site, because we have such a mish-mash of items in our store, that it's easy to get overwhelmed with everything we offer. In the last year we've rolled out with TheWanderingReader.com, which is a site in which we offer a lot of our best-selling items, and present a bit more of a cohesive storefront, but Bookish Charm on Etsy will always be our first, and favorite home.
Curator V: Do you have a best selling item? What do you think makes it so popular?
Honestly it's a three-way tie between our Doctor Who "Wibbly Wobbly Timey Wimey" necklace, our "Not all who wander are lost" Lord of The Rings necklace, and our Mr. Darcy "In vain I have struggled" necklace. Coming into a close fourth place is the "I am no bird, and no net ensnares me" Jane Eyre necklace.

Since we have so many pendants, it's hard to choose a best seller, but I can tell you now – the Doctor Who crowd loves their schwag!
Curator V: What can we expect from Bookish Charm in the future?
We have so many aspirations and dreams for the future, and we've been working hard with some suppliers and providers on Etsy so that we can start offering things like rings, earrings, cuffs and plenty of other treats to entice and inspire.

We never want to stop growing, and it's our constant dream to provide absolutely all sorts of wonderful and curious creations for those who seek literary and geekish delight!
Erin and Ducky are giving you the chance to choose your own prize: any single item from their shop! To enter, visit Bookish Charm, then leave a comment here telling us what you'd choose if you are the winner. One winner to be chosen at random next Sunday, February 10th.
(Reading this via a feed? Here's a direct link to the giveaway.)