Update: This week's winner is Mandy, #36! Big thanks to Nile and Michelle for sharing their work with us!

Tattooed Tinker is fascinating on so many different levels it's hard to know where to begin. The brother/sister collaboration? The use of all recycled materials? The unorthodox creative process? Wherever you start, it all leads to striking designs like these spiral earrings, each made from a copper penny.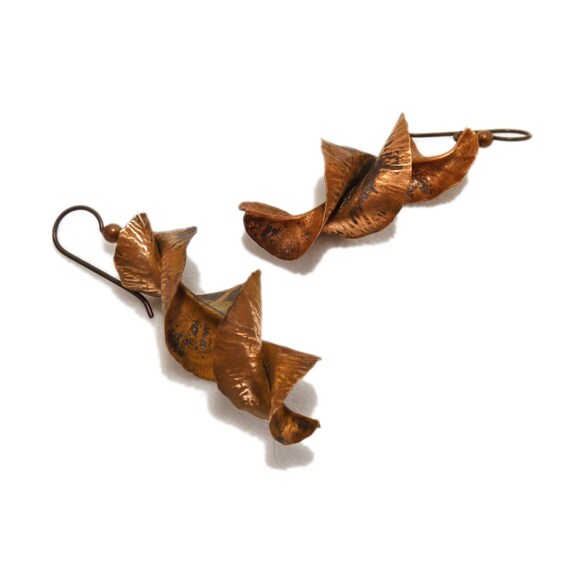 Nile and Michelle share a philosophy of finding the potential and beauty in what has been discarded. The copper here came from salvaged electrical wire that's been forged into a continuous piece then used to "cage" a turquoise stone.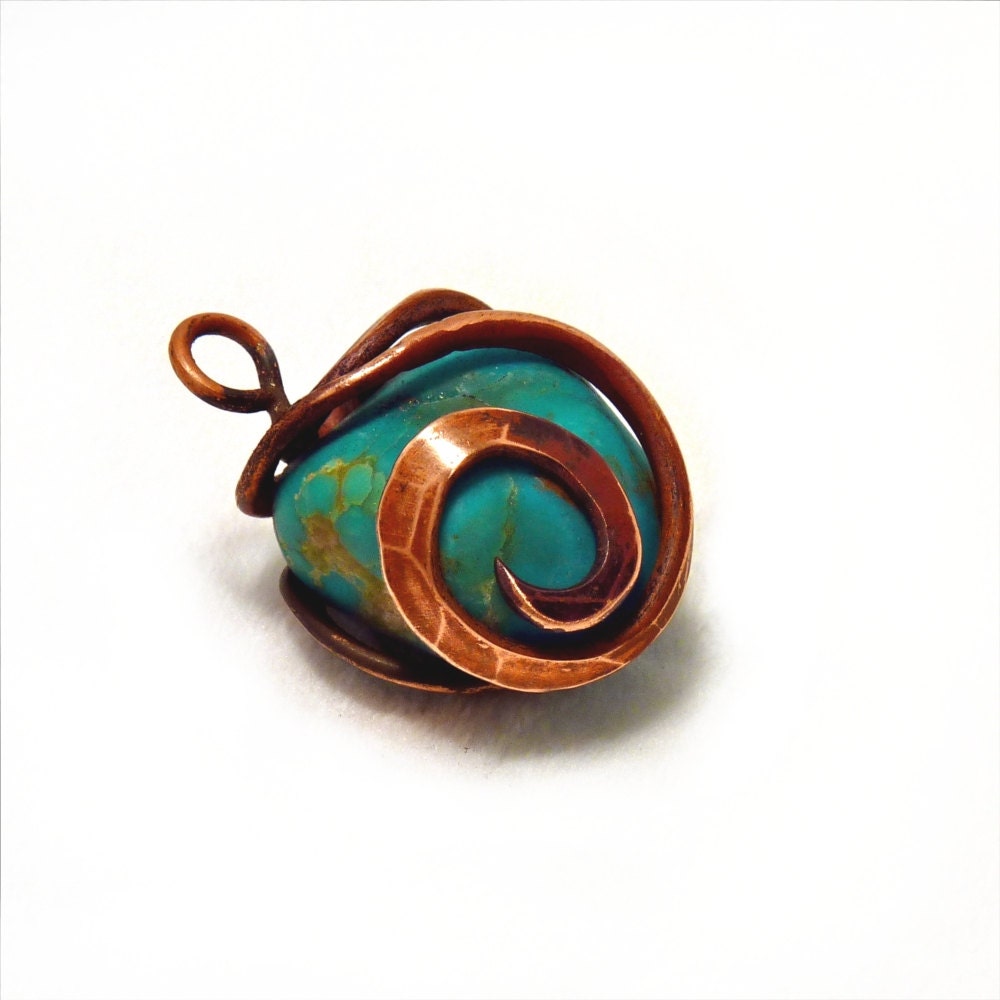 Many of their pieces are inspired by nature and the transformation of industrial materials into graceful, organic pieces is a sight to behold. This rose, forever in bloom, came together from a salvaged brass door kick plate, telephone wire, and copper pipe.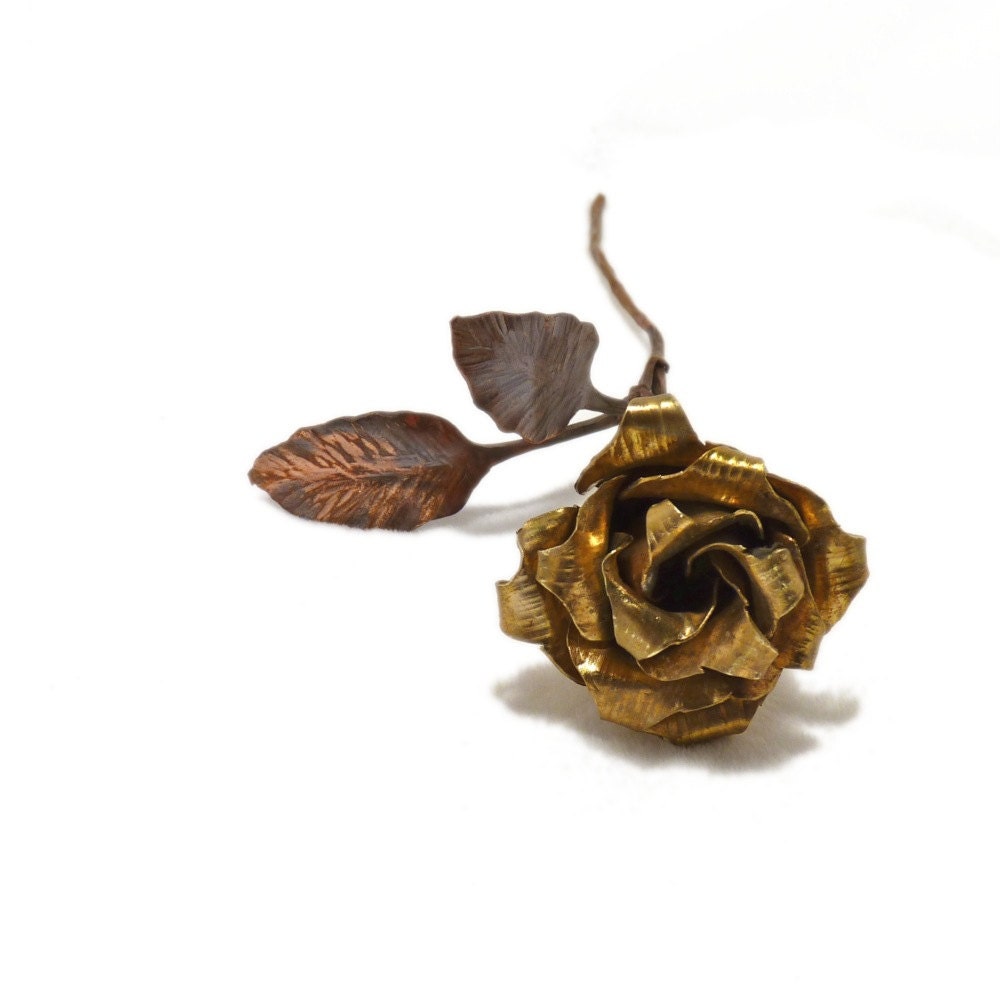 Using a free-hand forging process, each gingko leaf is made individually, resulting in a gorgeous natural variation. A symbol of everlasting memory, the ginkgo is associated with resilience and aged wisdom. What a fitting use of Nile and Michelle's point of view.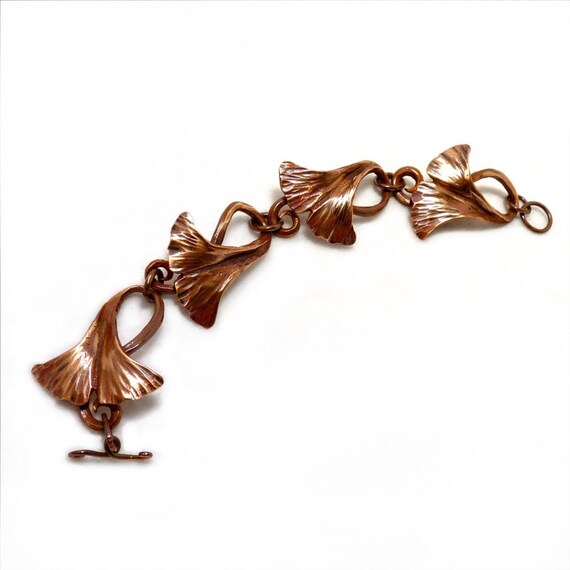 Curator V: Tattooed Tinker is a brother/sister collaboration. Who does what? How is it working with your sibling?
Nile: Michelle and I both work equally in the studio. So we both forge jewelry, sculptures, and other things. We both take the time to create new designs independent of each other, but we also enjoy collaborating on projects. Michelle runs 90% of the administrative side of the business. She takes care of the details.
Michelle: Nile is the PR guy. He is charming, comfortable with crowds, and loves talking about the work we do. Nile is also responsible for 90% of the skill sets that find their way into our studio. He hunts down new forging techniques and explores new tools…. maniacally.
Nile: As far as working with my sister, I love it. But you know, sibling stuff creeps in every once in a while.
Michelle: I love working with Nile, but he is my (little) brother and that can be challenging. And fun. Basically, it means that all of the cool things that I love about my brother are in my life 24/7… and all of the other things are there, too. But we make it work.
Curator V: How long have you been on Etsy? Why did you decide to set up shop there?
Michelle: We claimed our studio name on Etsy in January of 2011, but we didn't list anything until September of that year. Since then, it has been a struggle to find our way, but we are constantly learning more about Etsy and how to make our shop work for us. Our Etsy Team, TAGT, has been a huge part of our coming of age on Etsy. We love them, wholeheartedly.
They have been an amazing source of guidance, promotion, and support. We celebrated our 100th sale with them (now approaching our 200th), and we made it to the Etsy Front Page for the first time in one of their treasuries!
Nile: I didn't know anything about Etsy. I thought it would just be an online shop. But really, what it has become for us is something like a working portfolio of what is going on in our studio. We update our shop with new styles and new photographs and I think it is a very valuable tool when we apply for art shows. People look at our Etsy shop and they get a real idea of what our work is like and what to expect from us when we show up to tinker. It has also been a great way for people to continue shopping with us after a show. And we love getting convos from friends we've met on the road, looking for another piece of jewelry or replacing a favorite piece they've lost.
Curator V: You work exclusively with copper. What made you decide to specialize in that way?
Nile: When I first started making jewelry, I had a lot of friends who were renovating their houses. There was a lot of scrap metal around. I'd be working in the forge and someone would show up with a bag full of copper wire or pipe that they were going to throw away. They'd say, "Can you do anything with this?" And I would say that I would give it a go. Mic and I are both very Eco minded. Seeing the large amount of waste copper that was very, very usable made it clear to us what medium we were going to work in.
Michelle: Copper is everywhere. It is in the landlines running through the walls, the alternator under the hood of your car, the lamp that sits on your desk, and even in the change in your pocket. There is an abundance of discarded copper because it is in everything. That made it a perfect medium for us to work with because we could take that copper telephone line and forge it into earrings. We could take that copper plumbing pipe and forge it into ginkgo rings. We could even take copper pennies and forge them into everything from pendants and earrings, to a single rose. And best of all, the chain of creation is transparent. People often ask us at art shows, "But how can you remember what everything was before?" When they look at the large variety of things that we create, they find it hard to believe that we would know this ring used to be copper roofing, but this one was a penny. The fact is, when you transform a material so drastically, it is a memorable process. Pulling a heavy copper pipe out of a pile at the local salvage yard and taking it home to produce a series of ginkgos is a memorable process. We know what everything is and was because that chain of creation is short – it's just the two of us.
Curator V: You are dedicated to using salvaged and recycled materials. How does that focus on being environmentally friendly inform your designs?
Nile: I think one of the main things that influences our designs is the metal that we come across. Some people sketch a design and have a plan for the type of metal that they want to use, and order it up in the perfect gauge and stock. But we can't do that. Correction, we choose not to do that. We go to the salvage yard and pull through the piles to find metal that is interesting. We ask the scrappers, "Where did this come from?" And if we get a good vibe off the metal, we take it home and we go to work on it.
Michelle: It really is the inverse of what most artists do. Our creations are driven by the salvaged forms we come in contact with. I love that about our work. Sometimes it is hard to explain to people. We had brass ginkgos once and people loved them, but then they were gone again. Why? Why would we stop making brass ginkgos? Because the brass pipe was only there that one time, and there was only two feet of it. Now we don't have brass pipe and if it isn't in the salvage yard, it doesn't come into play in our studio.
Curator V: Could you take us through the creation of one of your pieces?
Nile: I wish I could say that I had some grand creative process. But most of the shapes and designs that I do just pop out of my head like daydreams. The forging and the saw work are kind of like doodling for me. Except, instead of pen and paper, I'm using a torch and a hammer. And if the doodle works out well, then it will be refined and become one of our designs. And if it doesn't, it sits on my work table until it makes sense. My heavy influences are whatever I have read or talked about or been daydreaming about that week. I remember once doing a series of elaborate and detailed pieces of jewelry, each made from a single penny. What started that was someone told me that they knew someone who threw their pennies into the trash every night. I was upset about the waste, and that was my silent rebellion.
Michelle: I usually have a forging technique in mind. I might be thinking about foldforming, or I might be thinking about free hand forging on the anvil with a certain hammer, a certain application. Then I look at what we've dragged into the studio and a little equation magic happens in my head. Like, a penny plus a fold form style, that could be a cool pendant. Or a quarter plus my vise and some forging… that could make some really cool leaves. I talk to Nile about it and we hash it out. Would the metal do that? Does 1 + 1 = 2, or is my math wrong? Nile will sometimes nod and say, "Yeah, do it." But sometimes he has input that saves me from a failed effort, that redirects the equation. Sometimes the equation is externally driven. My bullet flowers started when a scrap metal worker handed me a couple of bullet shells and asked me to make something out of them that was not a bullet. That didn't look anything like what it used to be. It took a long time to come up with a design and technique that worked with a bullet shell, but it paid off. They do not look like bullets, and people love them. A bullet shell + my hammer and anvil = something else.
Oh, Stalkers! Nile and Michelle are giving away a Double Ginkgo Pendant! To enter, visit Tattooed Tinker and explore their beautiful transformations. Then come back here and leave a comment with your favorite item. One winner to be chosen at random next Sunday, February 3rd.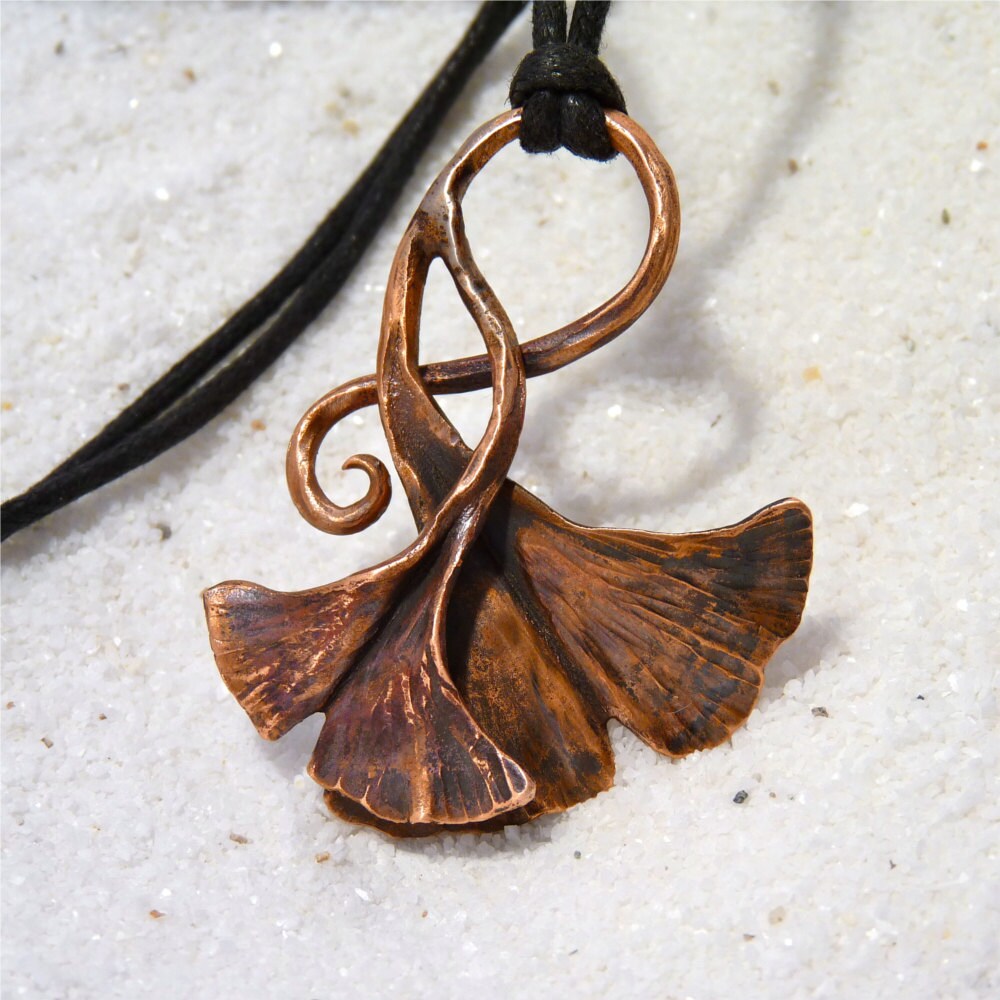 (Reading this via a feed? Here's a direct link to the giveaway.)