Update: Brenda (#83) is our winner! Thank you to Amy for sharing her time and talent with us!

It's easy to see that Amy Waltz makes beautiful jewelry. Her shop is filled with rustic, boho designs like this set of five bracelets that mixes metals, sizes, and finishes in a satisfying, versatile collection. But to Amy, jewelry making is much more than creating something pretty to wear.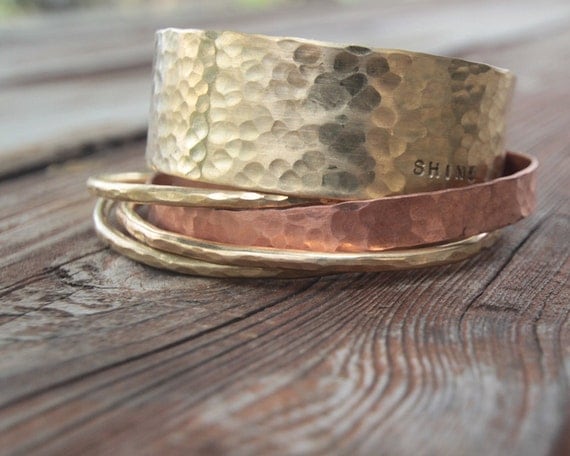 From her About page, here is her vision: "Each piece not only carries with it a message but a sweet sound or a delicate feel intended to remind and awaken all that is good. If this goodness vibrates from your heart, perhaps this tiny ripple will swell and even if just one person is more mindful, the world is better."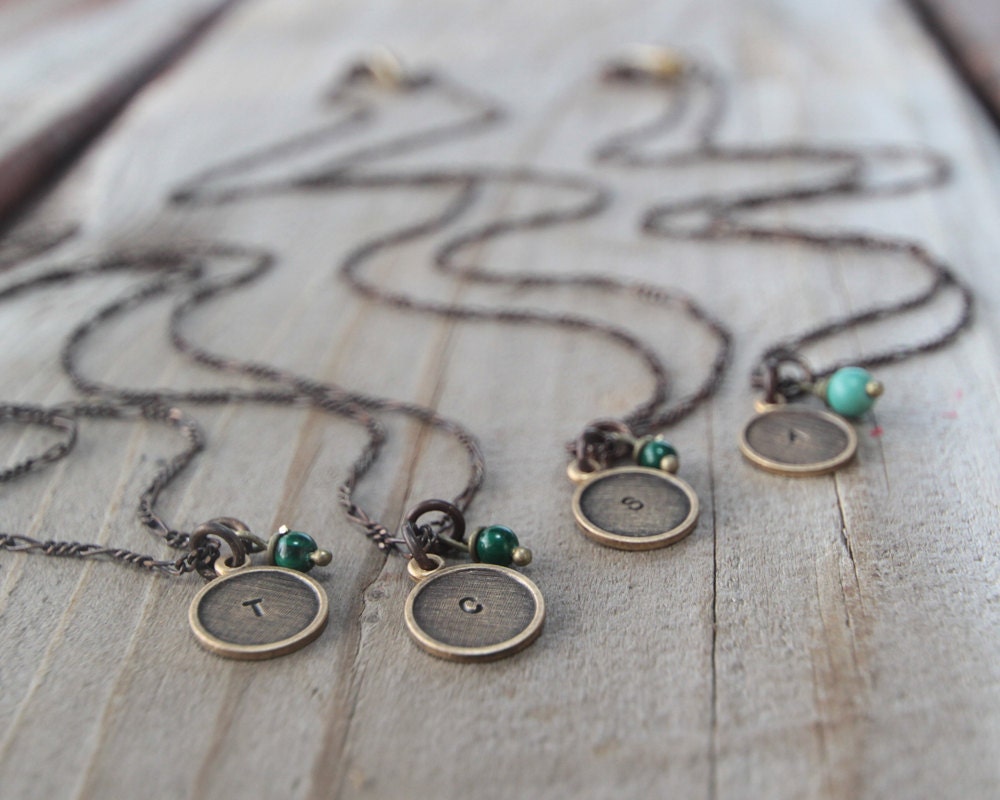 Often this vision is accomplished with a word or phrase meant to inspire the wearer. This bangle is stamped on the inside where it can serve as a gentle, personal reminder. These slim ones are meant to be stacked and I love the idea of choosing a selection of them, like incantations, each day.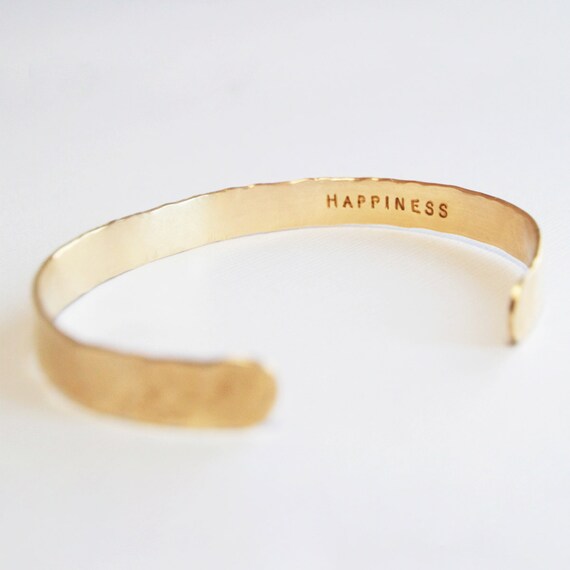 Amy has expanded her line to include leather pieces. You'll find fringed cuffs and necklaces, unisex cuffs made from upcycled vintage leather, and these super fun Jam Bands made to invoke those wristbands you get at concerts. Choose from a selection of rich colors for an armful of boho goodness.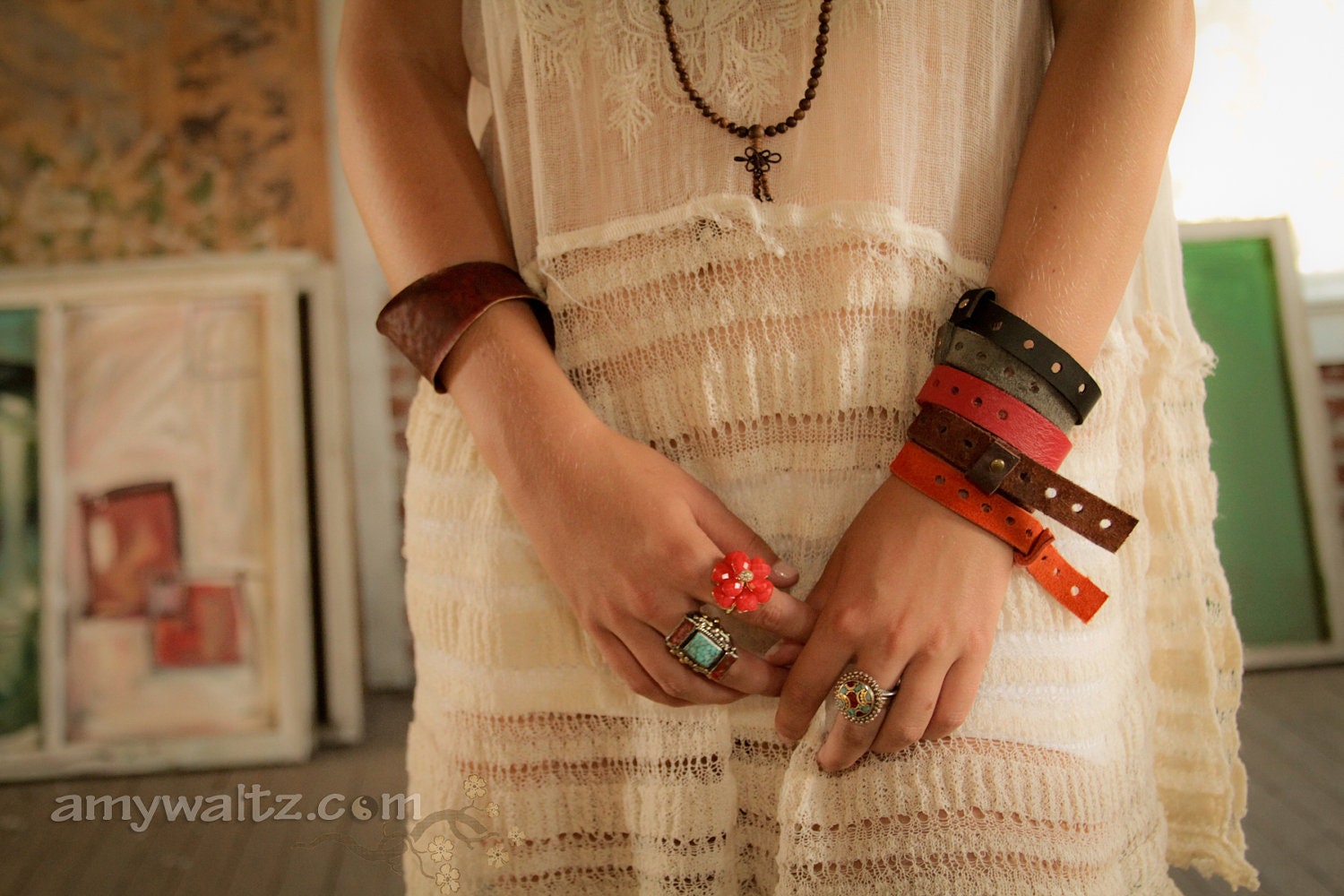 As befits her approach, the simple look of this ring belies the many steps that led to its creation. The brass has been sanded, shaped, aged, burnished, and brushed to give it a warm glow that she refers to as "Gold Dust". It measures 1/2 inch in width giving it a lovely weight and substance as well as room for a name, date, or phrase.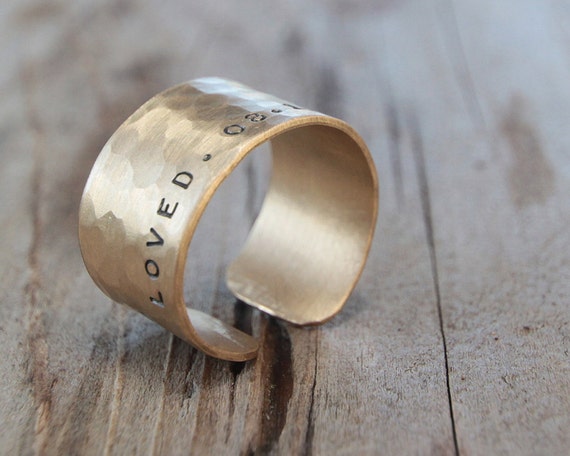 Read on to meet Amy's team and get a dose of her sunny personality!
Curator V: How did you get your start making jewelry? Did you start out working with metal?
Interestingly enough, jewelry was born from my photography work. I have been a photographer for years and a few years into it, when I started photographing pregnant ladies and their beautiful new babies, I said to myself, "well they should have a pendant necklace with their sweet little baby's face in it to hold close to their hearts at all times." So I did a little research, took a few classes, read some books, and mainly just decided I would, so I did. That started taking off like wild and being an artist, as most are, I found myself a little bored with producing the same thing so, kind of like before, I just followed the energy of my heart and started making earrings with filigree, tiny necklaces with initials and names, bracelets with lockets and names and more. At that time, I wasn't cutting my own metal. I was getting pre-made tags and stamping and sanding them. I am always reaching for growth. I like challenges; I like change; I like doing things that no one has done before. So, as things started speeding up and growing, I decided to ride the wave, slow down a little on the photography front and involve more of my artistic expression in my jewelry. It was about this time last year that I was at a Thanksgiving party when I sat next to the very sweet, demure Dianna Santilli Young, struck up a conversation with her and realized the universe brought us to that place at that quintessential perfect time. I didn't realize it before but at that moment, with a glass of wine in hand an incredible forward motion in my heart, I realized that Dianna and I would be a force of fantastic creative intuition. I had been thinking of bringing someone on to assist and shoulder the journey but that's about all; it was just a thought, until that rainy night, cozied up on a couch, enjoying a Christmas concert in a friend's living room. It was then that I realized this journey was about to get exciting! Now Dianna is my Jewelry Design Artista, intimately involved on all levels of the creative process, from design, creation to completion. We are all Passionistas, working collectively with compassion and passion to design, create and make beautiful pieces of wearable, mindful art.
Curator V: I love this quote, "our hope is that our jewelry will be a window into one's own inner beauty and magnificent purpose in life." Can you tell us a little more what that means to you?
Ok. Can I just say I'm so glad you asked me this question! Although my creative purpose with jewelry began as I stated above, there has always been a very mindful component to it. The jingle sound it makes, the gemstones I use, the words etched on the side or the notes of inspiration all intend to awaken a heart of gratitude and goodness. We all love wearing beautiful jewelry. It makes us feel beautiful but my wish is that it be a reminder or a mantra or a wish for peace and acceptance within. I want the words to mean something, for the sound to cause us to think about its meaning, for the *heart* of the jewelry to resonate more deeply than just being a beautiful piece that is dropped onto our wrist without thought. I want it to lighten one's heart, to lift one's soul, to cause the recipient to smile a bit more, hold himself or herself with a little more heart, and forgive a little more. I believe when that happens, vibrations pulse out of us, *goodness ripples* as I call them, and these ripples might possibly swell and collide and collect with other positive vibrations and even is just one person is more mindful the world is better …… so the end result to this statement and to the very reason I make jewelry is to create an awakened heart of gladness that transcends borders, nationalities, philosophies, and just causes us to lift up and enlighten ourselves and each other. One of my favorite pieces that really supports this intention is our I AM necklace, etched on a tiny piece of metal and dangling from a very small, delicate fine figaro chain resting right at our fifth chakra to remind us that I AM whatever I choose to be. So powerful because what you choose to put after I AM defines and shapes your reality. Since the moment I made mine, I have never taken it off. I see it in the mirror in the morning and add my I AM statement for the day.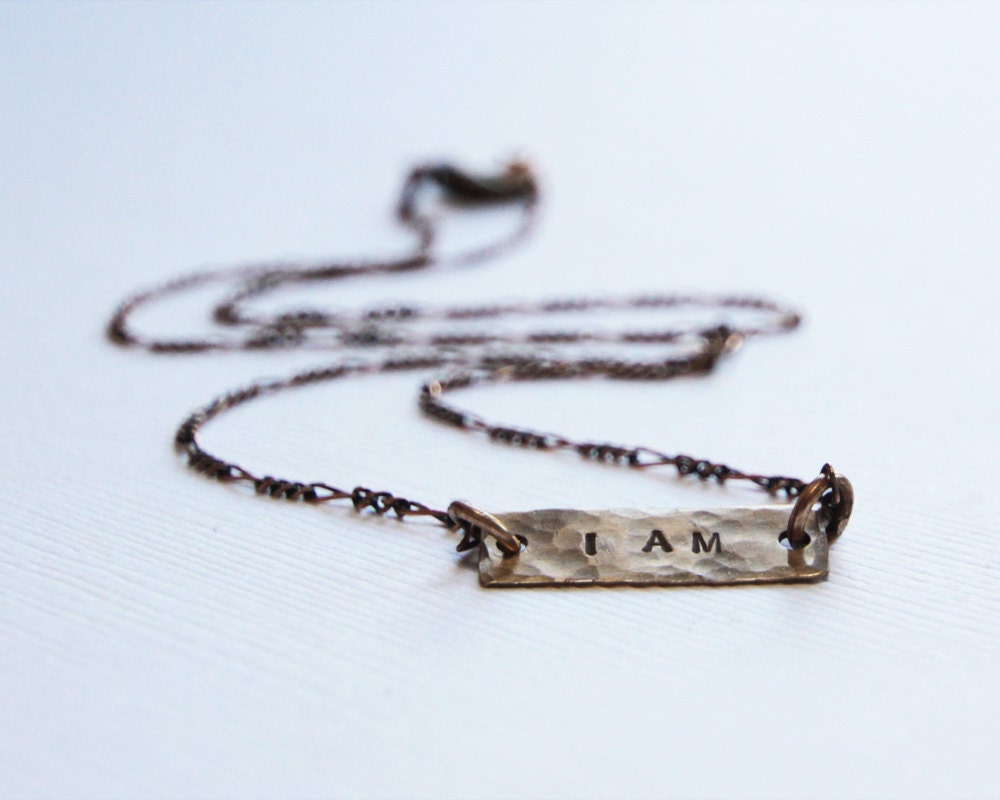 Curator V: You talk about a sheet of metal being a blank canvas in your eyes. In what ways does the metal itself speak to you?
I love your questions!!!!! Basically within that one sheet of metal is everything and nothing all at once. It holds all the possibilities that I don't even realize are there yet. Once we started moving in the direction of sheet metal, there was no turning back! I kind of feel that way about the bangle cuffs and rings right now. I love that I can take this flat, sort of dull, sometimes scratched up surface and cut it, sand it, shape it, stamp it, hammer it, sand it some more, and bang away on it, add words of inspiration and possibly a patina until this magical, beautiful love-soaked piece of adornment is created. It's amazingly inspiring!
Curator V: Your work is made both by you and Dianna Santilli Young. How do you two know each other? What is your working relationship like?
And now I've added another member to our creative process, Jocelyn Glatthaar. So our team is Dianna, Jocelyn and me. When I have an event or do a new line photo shoot, I also work with Christa Melton on the vision and layout. So, basically, my success is truly because I know how to pick the right people to surround me. You see, I've always believed that if you surround yourself with people who are more talented, more awake, more creative, more compassionate … well, you, quite simply, elevate to that and become that. That's exactly what I do well. I surround myself with people who are everything I love and everything I want to be. They all make me a better person, artist, mother, and friend. I hired Jocelyn because she is an amazing seamstress and artist and as we started working with leather we realized we needed one. At first it was my mom I would call upon and she'd gladly do it to help but I needed someone more consistent and my mom had her own life to live! I had talked to Joce about working with me in the past but it just never was the right time. And as things grew and collided it just happened very naturally. Jocelyn assists me on photo shoots and she's one of my dearest friends. This was just as natural a progression and growth as a bud bursting forth its flower. It was just a matter of time. My work relationship with both Dianna and Joce is like slipping on your favorite jeans. It's cozy, you miss them when they are gone ("in the wash"), it's just the right fit, and you hope that they will never split. Ha! They are truly my rock and I am just blessed to sit next to them and be creative, laugh, cry, share stories, and do what we love!
Curator V: Your work has a lovely boho feel to it. How did that aesthetic develop?
Well, I'm a hippie at heart. I love the flow and appeal of it. I love the mind space involved with bohemian art and culture. I was raised from a very young age with free spirited, mindful parents who modeled that spirit to me. My mom is the most remarkable artist herself. She always made me most of my clothes and has knitted ever since I can remember. She creates the most magnificent creations of crochet and knit with her hands. One thing that has always amazed me about my mom is her incredible patience and diligence with her work. She has instilled within me these traits. My favorite thing to share about her is she will spend a month on her creative process with something, painstakingly concentrating many hours a day on it and if she finds and error, even if it's back in the very first line, she will rip it all the way back and start all over again. What I love about that is it's a wonderful demonstration of detachment, for we can't get too attached to any one thing because it's impermanent; nothing lasts forever. I love how the Buddhists will create beautiful sand mandalas, working for months on them only to destroy them in the end. It's amazing to me to let something go that you have loved on for so long and poured your soul and heart into … it's just so beautiful; it's life; it's grace; it's truth and it's an incredible lesson in letting go.
Curator V: What can we expect from Amy Waltz in the future? Any new materials you'd like to work with?
Well, well … so glad you asked! I have always enjoyed the purposeful intention of recycling, upcycling, taking old and making new, and we do that in a few of our pieces currently, but I am hopeful that 2013 will bring us closer to my goal of using upcycled metal in all of our pieces. This is really where my heart is. Instead of buying newly mined metals, it makes my heart leap to think of taking what is already here and re-purposing it into a newly adored creation. Look for that from us! Along those lines, I am hoping to have our new line of upcycled fringe purses up by the time this interview launches!! This is how exciting they are – we purchase would-be discarded vintage leather coats, skirts, belts, pieces of leather and turn them into something magnificent again. There is quite a bit more labor involved in this process, but the end result is not only stunning but mindful too. Jocelyn, being our in-house Modista (seamstress), is heading up the fringe purses. I cannot wait to share them with you! Other than that, all three of us like to evolve, so on a weekly basis we are usually creating something new and inspiring. Look for more growth on the jewelry front but know that it will always hold the same intentional, awakened, inspired, and heartfelt spirit.
We can all use a little more beautiful mindfulness in our lives and Amy is offering a $50 Gift Certificate to help one reader do just that! To enter, visit Amy Waltz Designs and experience her approach to jewelry making. Then come back here and leave a comment letting us know what piece speaks to you. One winner to be chosen at random next Sunday, December 16th.
(Reading this via a feed? Here's a direct link to the giveaway.)