Update: Just in time for Halloween, #13 turns out to be a lucky number. Congrats to Jingle and thank you to Laura!

Industrial jewelry can walk a tricky line. If it's not done correctly, it loses all sense of softness and diminishes its connection with the wearer. At Loralyn Designs, it's done just right. I love the use of the silver plated filigree petals with the stainless steel center for an unexpectedly feminine look.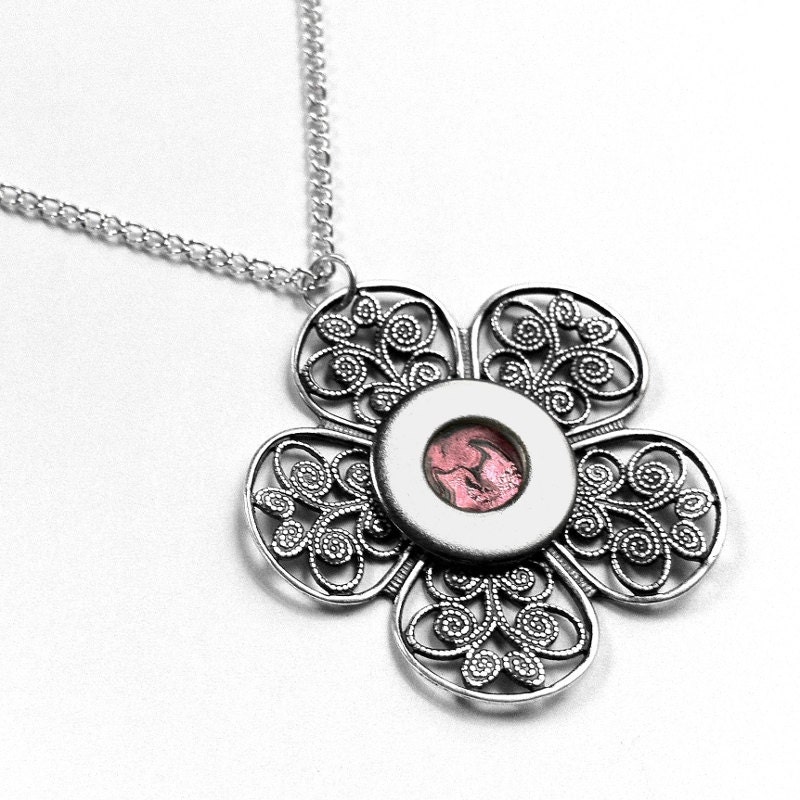 The pop of color in Laura's pieces comes from an ecologically responsible modeling product called Friendly Plastic. With it, she can create her own colors, often with the luxurious marbling effect seen in this ring. This means she can also custom make her designs in any color you'd like.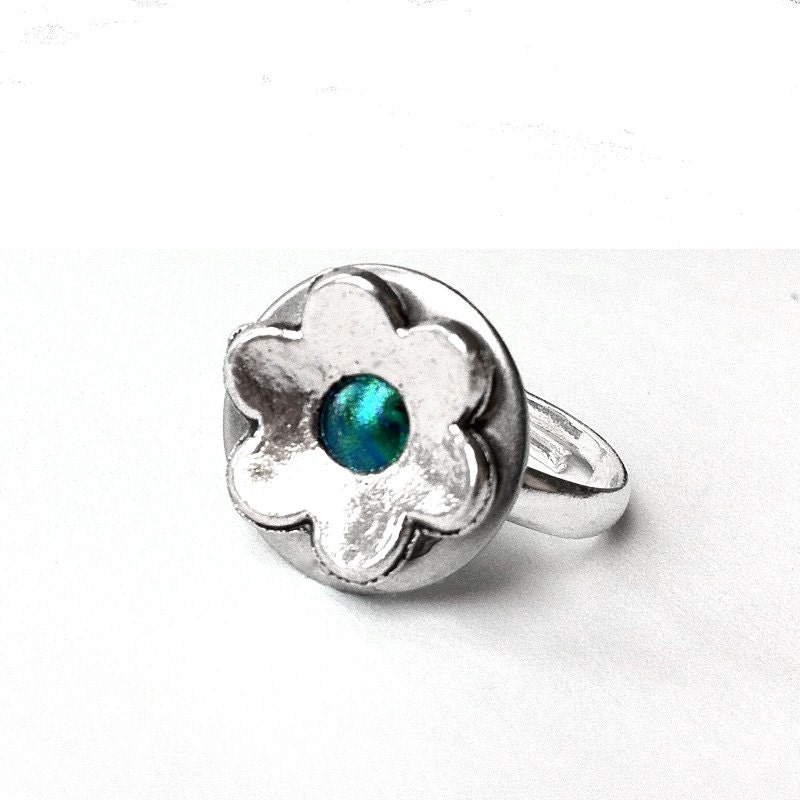 Her heart necklace shows the color to even better effect: pink, magenta, and lavender all swirl together inside the sleek silver pendant. Choose a single, solid color or up to three blended together.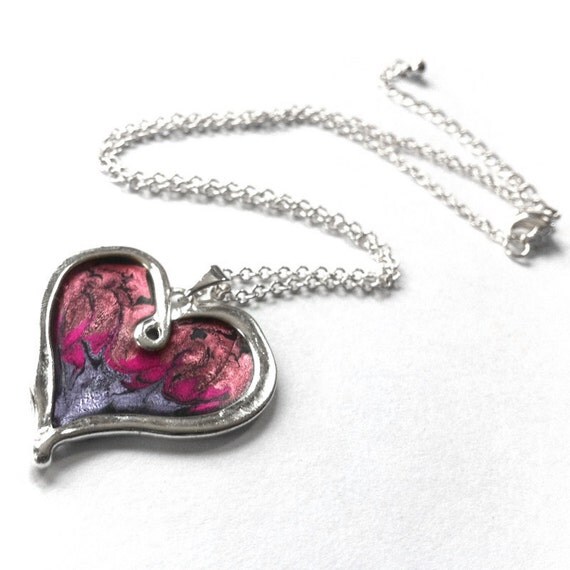 Looking for a perfect hostess gift this holiday season? I'm loving her selection of wine charms, particularly these made in stainless steel gears. They hang from memory wire, so no need to fuss with closures.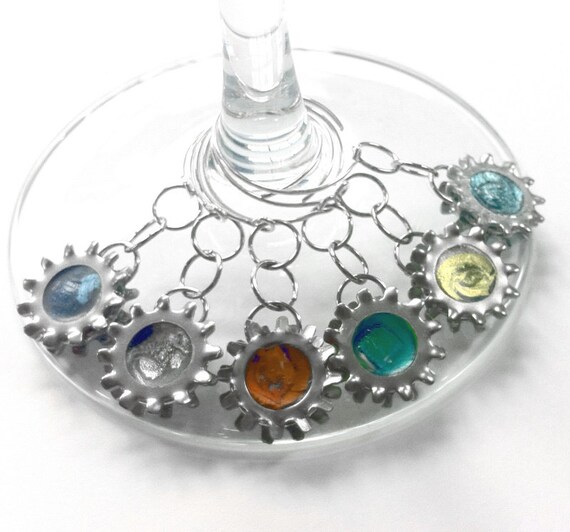 Her round earrings come in a variety of colors and are double sided for extra shine. They're small and subtle but with just enough detail and interest to make them your go-to earrings. They'd add that delicious bit of edge to your jeans and tee.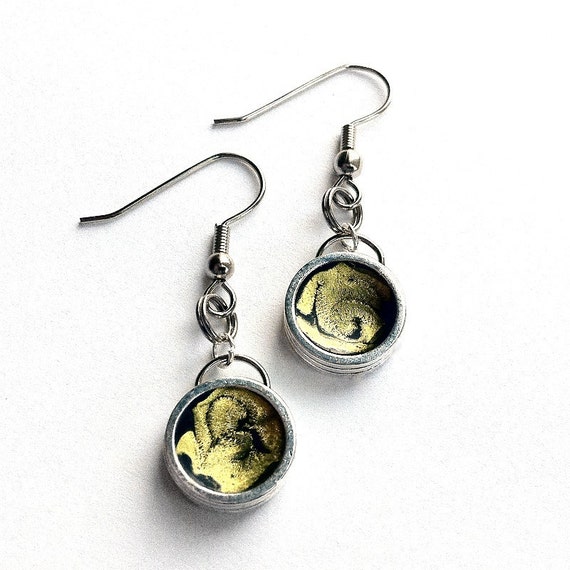 Curator V: You credit your mother with encouraging your creative side. Can you tell us a little bit about that?
I have so many great memories with my mom. Topping the list are learning how to knit, draw, bake and sew. We would spend so much time together just having fun, creating whatever we could with what we had. It didn't have to be fancy, just some scraps of fabric, a needle and thread made the most beautiful doll clothes. Straight pins, beads, a Styrofoam ball and some glitter made a beautiful Christmas ornament. Pipe cleaners and paper made a floral centerpiece. Whatever we made was great because it came from our heart.
Curator V: You were doing woodworking and home improvement projects before you moved into metal work. What spurred that transition?
Earlier this year, I was out of work due to a back strain and frankly, I had a lot of time on my hands. I used the time to read, to research, and to reflect. It turned out to be both physically and mentally therapeutic. During this time, Loralyn Designs was born.

My Goal: Design unique jewelry and gifts incorporating metal and color
The Challenge: How to put my personal mark on items

I was down at my workbench one day and it hit me; Washers, nuts, stainless steel, oh that makes sense! The next challenge was the color. After a lot of research I discovered a modeling material called friendly plastic. It is easy to use, non-toxic and enabled me make my own colors.
Curator V: Where do you find your inspiration?
A lot of my inspiration comes from inside. Sitting down and playing with components I have on hand, arranging them in different ways. Looking back, I guess my inspiration is similar to the way my mom and I used to brainstorm and craft.
Curator V: What can we look forward to from Loralyn Designs in the future?
Loralyn Designs is a new company, founded in February 2012, and is off to a great start. My highest compliment to date is being accepted to The Artisan Group (TAG), an exclusive collection of artists that are provided opportunities to design gifts for celebrities. Through this group I have been fortunate to be able to design pieces for Tyra Banks and for the Wardrobe Stylist of the Vampire Diaries. As far as the future goes, I have high ambitions and look forward to seeing where they lead.
Giveaway Time! Laura is giving away any item of the winner's choice, up to $25! To enter, visit Loralyn Designs, then come back here and leave a comment with your favorite item. One winner to be chosen at random next Sunday, October 29th.