Update: Lucky number 119 is our winner! Congrats Celeste, and thank you again to Nikki!


What will you find at Magic in the Grass? A garden of handmade silver jewelry inspired both by the simple beauty of nature and the power of words. This lovely duo of concentric circles is stamped with lyrics from John Lennon's Imagine, but Nikki welcomes your requests. Names, dates, lyrics…she loves creating custom pieces full of meaning for the wearer.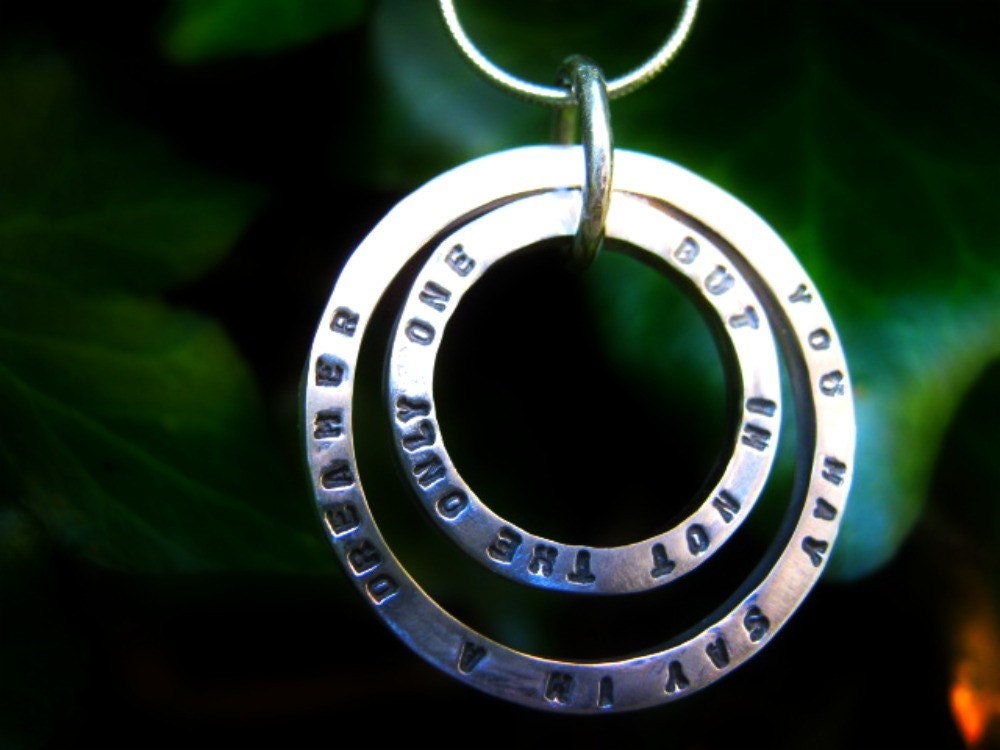 The texture of this stunning ring is achieved by using an actual leaf skeleton to imprint the leaf pattern into the silver. Polishing it to a high shine ensures that the many details stand out. I love the delicate veining of the leaf against the smooth, thick silver.


While Nikki might be best known for her chunky pieces, she has quite the delicate touch. Here, ten little silver hearts are clustered together in a cascade of love. Imagine how they would catch the light as you toss your head.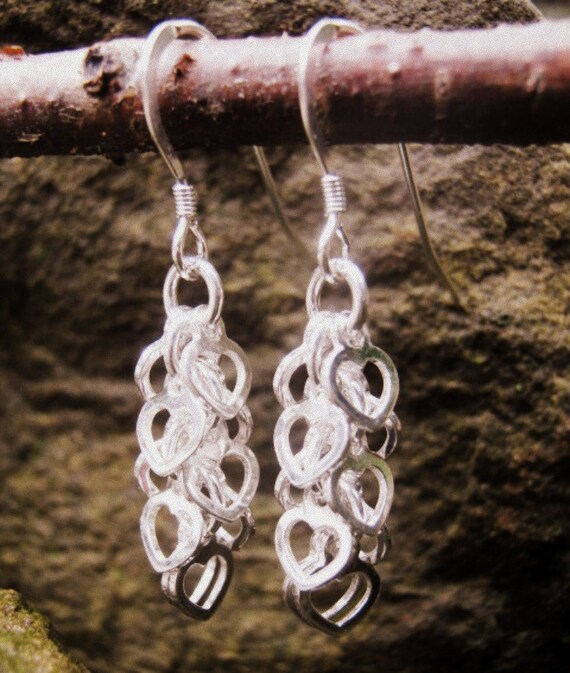 As you'll see in our interview, the first piece Nikki ever made was a bangle and her love for them hasn't waned. Chunky, skinny, smooth, hammered…you decide! What would you have her stamp? What words would you want forever remembered?


Curator V: How did you get your start making jewelry?
In 2006 my partner and i decided to quit our day jobs and go and see some of the world. We lived in a campervan for a year. On a night we would sit and talk about our futures together and what we would most like to be doing. We are both very creative, and I knew that when I returned to England we would be making a change for the better. As soon as we arrived home I enrolled in some jewellery making classes, which I followed up with a silversmithing course. I worked an office job alongside, as it gave me weekends free to study the craft. I ploghed all of my time into it and steadily gained the knowledge and the tools that I needed to get started. One of the first pieces I made was a bangle stamped with "don't let your dreams be dreams". It was by no means perfect as I was still only learning, but I wore that bangle almost everyday, as it was a great reminder of why I was doing what I was doing. So I guess in a way I have Jack Johnson to thank for keeping me going…great lyrics!
Curator V: You grew up in a small village in England. Can you tell us a little bit about that and how it inspired you?
I feel really lucky to have grown up where I did. Grassington is a beautiful village nestled in the Yorkshire dales. My childhood was largely spent outdoors, surrounded in nature. This has inspired both my jewellery and my photographs. I remember painting the backs of fallen leaves to make prints from the intricate patterns (I was always the crafty type!). When I got into making silver jewellery I knew what needed to be done. For my 'leaf' range I heat the silver up until it's soft, and roll it through my mill with a real leaf skeleton and the pattern is left imprinted forever. A perfect example of art representing nature.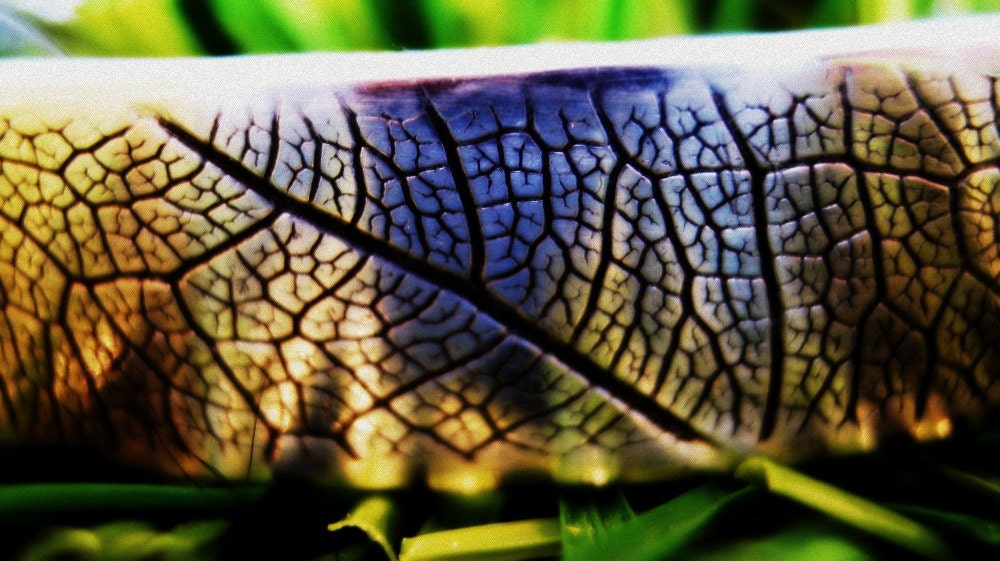 Curator V: You are a relatively new mom. How do you balance the needs of your family with your need to create?
My gorgeous girl (Amy) couldn't have timed joining us any better! My jewellery business was starting to take off and I was beginning to have more orders on than I could manage to make alongside a full time job. So, when I left work for maternity leave we knew it was the correct time to make the break and really go for it with 'Magic in the Grass'. I made it my career, and I love it! Balancing my time as a mother and managing a flourishing business can be difficult at times. Through the day I'm looking after Amy, so I tend to get any computer work done then. After breakfast I will check for any orders and enquiries, and tend to as many of these as possible straight away. Through the day when Amy is amusing herself I will use my time to take photos, update my Facebook page, and get any online tasks done that I can. Once she is in bed I take myself into my studio, and that's when the 'real' work gets done! This can mean that I have very long days, but I wouldn't change any of it for the world.
Curator V: You love to create custom, personalized pieces. What makes that so special to you?
I really like to see the words that people choose to have their jewellery stamped with. Some go for special dates or children's names, which is sweet, but I love the random requests the most. The ones that make no sense at all, but I know that it's an 'in joke', and will mean a lot to somebody else! Many of my customers choose to have lyrics, and if it's a song that I like I will be singing while I work. Very loudly. And very badly!
Nikki created a skinny silver bangle with a hammered edge just for this giveaway! Stamped around the side is this powerful quote by James Dean: "Dream as if you'll live forever. Live as if you'll die today." To enter, visit Magic in the Grass then come back here and leave a comment with your favorite item. One winner to be chosen at random next Sunday, April 1st.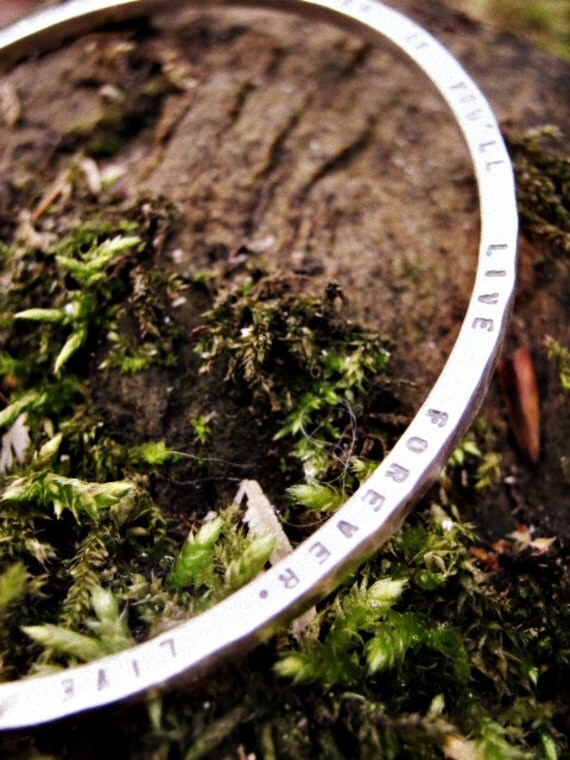 (Reading this via a feed? Here's a direct link to the giveaway.)